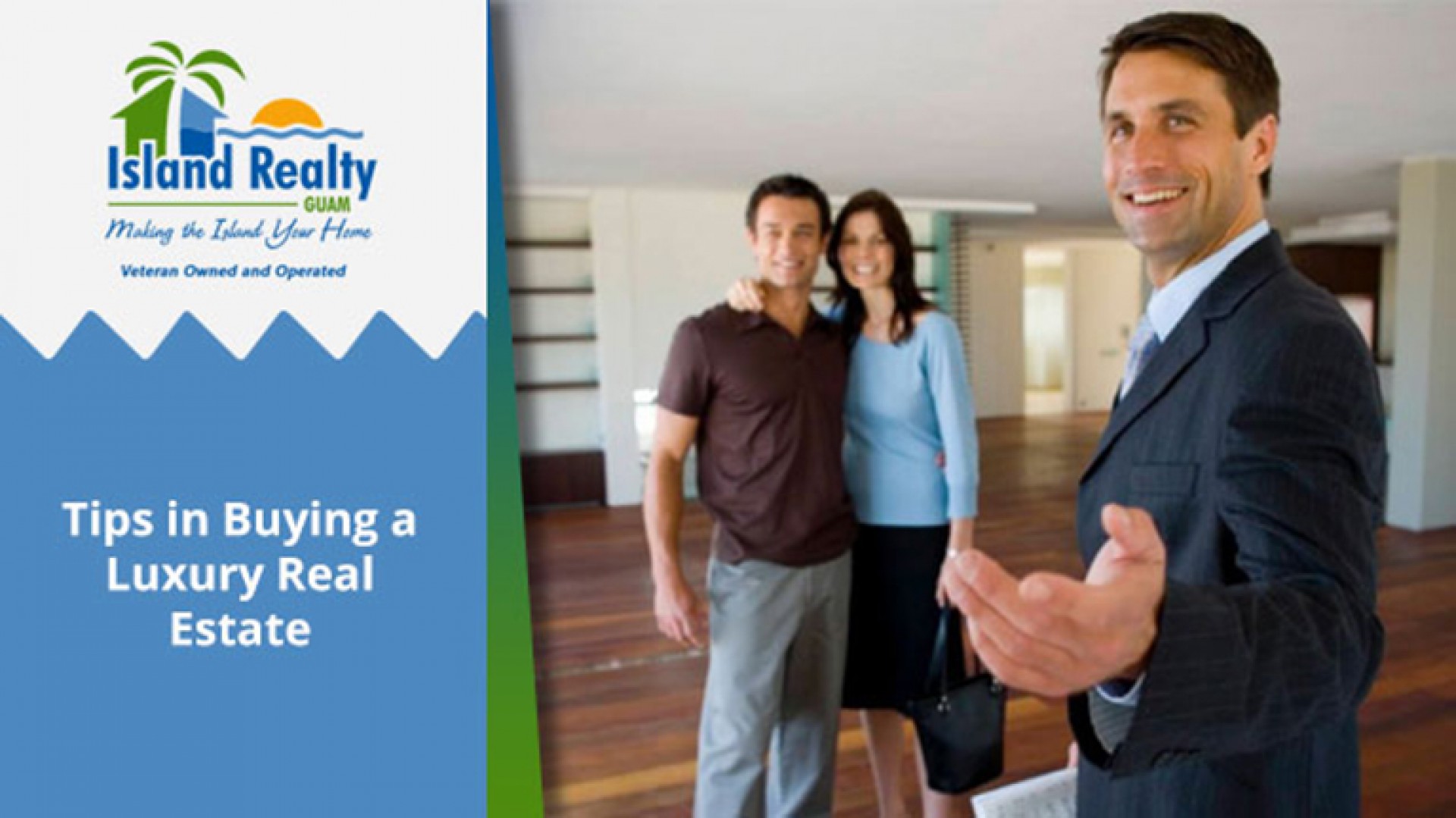 Luxury real estate can be a lucrative investment.
But with owning a luxury real estate investment comes a huge junk of money that the investor is willing to spend on. And while a gorgeous luxury home set on several rolling acres sounds as stunning as it looks like, there are a number of points an investor should consider. Here in Guam Rentals, we did the homework and collated the expert tips in buying a luxury home. All you have to do is decide.
First things first, luxury is subjective. One man may see luxury as a beachfront condominium unit in a 12-unit building in Tumon Bay. One may regard luxury as nothing less than Joe Marchal's USD6.5 million mansion – the most expensive listing in the whole of Guam! While one man's version of luxury is different than that of another's, there are still common matters among their thinking.
Let us go through with some experts' tips for investing in a luxury real estate.
Ensure you are fully-equipped with the right information in every step of the way

Some investors have teams or assistants behind them who are doing all the work for them – from sourcing the broker to having an ocular at the place. While this saves them so much time, it might hurt them in the final-decision-making process. A good broker must know that the client should be fully informed in every step of the way – especially if we are talking about millions of dollars in this investment.

An investor, however, should be really fussy and should be more involved in all steps of choosing and investing in a particular luxury real estate.

Location, location, location

High-end buyers know that location of a particular real estate – especially luxury real estate – is what makes it premium. Location is everything when it comes to investing in a real estate. An ideally-located French manor can command a price twice as expensive as a poorly-located estate with a stunning view.

Research on the location – or make your broker do the research for you. Make sure you pay a visit first to detect if the luxury home is close to all establishments that matter to you – whether it's the bank or a high-end spa; which leads us to the next thing to consider when buying a luxury home.

Schedule an ocular – not once, but twice

No matter how busy the lifestyle you lead is, make time to schedule an ocular at the place before you make any huge decision. While photos tell a thousand words, an image can also hide a thousand secrets. Brokerage firms hire professional photographers who have an artistic eye that takes stunning images. And the magic doesn't stop there – these photographers not only take gorgeous photos (sometimes, even way more gorgeous than the subject itself), they also make use of Photoshop to adjust the color or eliminate unsightly details in the images. In short, be smart and schedule an ocular before actually purchasing the luxury home – or any luxury items for that matter.

Don't forget about title insurance

Demand for a title insurance since with this, you are confirmed you will be insured against any problems that may have forgotten about in the process of purchasing your new stunning luxury home investment. Give attention to the exceptions page of the title insurance before closing time.

Don't jump into the deal right away

If you're investing in a luxury home in an area you haven't spent at least a month in, why not try spending maybe a night or two in a hotel nearby the luxury real estate that you are thinking of buying. This way, you can gauge the feeling and let that sink in that this is going to be the neighborhood you'll be in for the next years.

Consult others; ask friends who live in the same neighborhood about the area. Consult your broker about the surroundings and take another trip down the locality before making any decision.

Consider the future

Ask for the community masterplan. Is there any new buildings that the same or other developers plan to build next to yours? If you are paying a premium price for that stunning view of the golf course but after 5 years, that gorgeous view is gone, it'll be worth knowing as early as before making any investments right?

It is very important for the timeline too. You have all the right to know if there will be construction delays on the side of the developer. Knowing these important facts as early as considering to purchase a luxury home will come in handy in the future. If the masterplan looks perfect today, will it be same in the next 10 to 15 years?

There you have it, the expert tips in investing a luxury real estate. It's not all about the aesthetic of the home itself, there are far more facts that you ought to know beyond that.

We hope you found this article helpful. If you need help finding a property that suits your needs, contact www.guamrentals.com today!