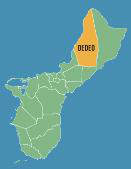 I thought it'd be worth taking the time to write a comprehensive post about Paradise Estates Subdivision, since it's probably the most popular place for military families on the island. It's definitely the place we get asked the most questions about.
Paradise Estates broke ground in 2006 and was finished during 2010. There are over 300 homes here, both 3 bedroom 2 bath (approximately 1700 square feet) and 4 bedroom 3 bath (about 2000 square feet). Every home has a 2 car garage that will accommodate most vehicles. It's located 10 -15 minutes from the front gate of Andersen AFB. So it's very convenient for Air Force people or anyone stationed at the NCS area. Although we have put many Navy personnel in PE, the drive to Navy Base Guam is a bit long. It typically takes me about 30 minutes via the backroads. It's also about 15 minutes from the tourist district of Tumon and the more popular beaches and resorts.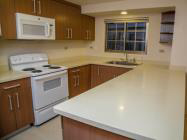 There are only a few floor plans in the subdivision, but regardless, you get about the same amount of space. The differences in the homes come from the individual owners and whether they've upgraded the home or not. You'll find many of them have fenced in side and back yards, some have nice covered patios, others don't have any upgrades at all. So there can be a pretty big variation from one house to the next. Again, it's all up to the owners.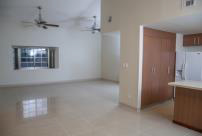 Prices for rentals in Paradise Estates have been going up a little this year. As of 1/2017, 3 bedroom homes are going for around $2450, although we've been able to get a couple for $2200 with multiple year lease. commitments. 4 bedrooms can go from $2450 and up, with the majority of them going for around $2500, but some with major upgrades go all the way up to $4400. Keep in mind, prices are sometimes negotiable, so there can be some wiggle room. But in the end, every owner has their bottom line.
Washer / dryer sets, dishwasher, electric stoves with oven, and microwaves are all pretty standard. If you're bringing your own, we can sometimes have the owner's appliances removed, just remember, it's up to the owner, and probably whether or not they have a place to store them.
Like I've said, many people are attracted to Paradise Estates. The most common reasons are location and security. Since the population in the subdivision is about 90% active duty military people, some people call it "base housing off base," and you can definitely get that feel when you drive through. It may not be your dream home, but it's close to base, clean, and safe. Another huge benefit, and the reason my family moved here, is that you can let your kids ride their bikes around the neighborhood and be kids without too much worry, and there are plenty of kids around. We felt it was the best place for our family. If you're deployed, TDY, or otherwise off island, it's a safe place for your family to be, and they'll have plenty of help around if they need it while you're away.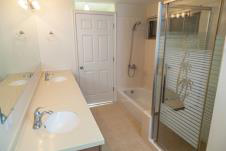 Another convenience of living in Paradise Estates is that there are DoD school bus stops in the subdivision, and you can probably find someone to carpool to work with.
So how do you get in? I get asked a few times every week "will there be any houses available in (insert month here) when I get there?" Unless you're arriving a couple days from asking that question, I can't really give you a definitive answer. Vacancies change every day. Short notice move outs and others we find out about at the last minute aren't uncommon, but, since you can often watch the nicer homes here disappear off the MLS in a day or two, you don't want to rely on what's on the public market alone. As I sit here writing this ( 10/16/2016 at 6:10am), I know we have 4 units coming up within 30 days, so we'll schedule our clients to get first shot at those, they'll probably never make it to the public market. We also have a pretty tight network of associates that we will contact and see if they have anything coming up as well. The first step is contacting us as early as possible so we can be in front of everything.
That should about cover it! I hope this short post was useful to you. Please feel free to post any questions or comments you have here or email me at [email protected] or you can call us on our toll free number at 1-800- 691-8653.
We have a very active presence on social media, so please visit our pages and let us know what you think.